Kruiden voor wondgenezing
01 Dec, 2022
Door Marilène Dols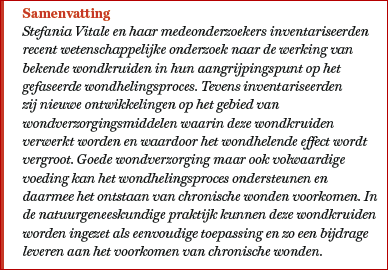 Een propje duizendblad om een bloedneus te stelpen, gekneusd weegbreeblad ter heling van een wondje of vers Aloe vera-blad om een brandwondje te verzachten. Wondkruiden worden volop ingezet, maar hun werkingsmechanisme was tot voor kort onbekend. Stefania Vitale en haar medeonderzoekers inventariseerden wetenschappelijk onderzoek van de laatste vijf jaar naar intensief gebruikte wondkruiden. Ook zetten ze de verwerking ervan in nieuwe wondverzorgingsproducten zoals emulsies, hydrogels, films, en (nano)vezels op een rij.
Het wondhelingsproces kent verschillende fasen. Voltrekken die zich zonder problemen dan geneest een acute wond binnen enkele weken. Verloopt het proces problematisch dan ontstaat een chronische wond die niet binnen de verwachte tijd heelt. Wondheling kan belemmerd worden door infectie, hypoxie, necrose, exsudaat en overmatige ontsteking. Infectie en vorming van een biofilm zijn de meest voorkomende oorzaken van verlengde wondheling. Ze veroorzaken een langere inflammatiefase die een cascade van weefselresponses kan veroorzaken met belemmerde wondheling en mogelijk zelfs achteruitgang. Het ontstaan van een chronische wond hangt vaak samen met achterliggende oorzaken zoals arteriële of veneuze insufficiëntie, vasculitis, neuropathische ziekten, diabetes, overgewicht, verbranding en druk. Voorbeelden van chronische wonden zijn een chronische operatiewond, ulcus cruris, een diabetische voet en decubitus.1,2
De kruiden uit de reviewstudie van Vitale kunnen worden verwerkt in nieuw ontwikkelde wondverzorgingsmiddelen die voorwaarden scheppen voor succesvolle wondheling. Ze houden de wond vochtig, de groeifactoren oplosbaar, ondersteunen fibroblastgroei en zuurstofuitwisseling en absorberen exsudaat. Bij voorkeur werken ze ook antibacterieel en zijn biologisch afbreekbaar.
Deze hoogwaardige wondproducten zullen vooral worden ingezet door verpleegkundigen en verzorgenden, maar de verwerkte wondkruiden zijn ook bruikbaar in de natuurgeneeskundige praktijk waar ze een bijdrage kunnen leveren aan het voorkomen van chronische wonden. Binnen deze setting kunnen wondkruiden verwerkt worden in eenvoudige applicaties zoals een steriel gaas, kompres, pleister of verband.
Een richtlijn in de wondverzorging is om in de acute fase van de wondverzorging een vochtige toepassing te gebruiken, bijvoorbeeld een gaas of kompres gedrenkt in een kruidenaftreksel, totdat de ontsteking tot rust is gekomen en een vastere toepassing geschikt wordt. Bijvoorbeeld een kruidenzalf, -crème of -lotion om proliferatie met epitheelvorming te ondersteunen. Kruidenwondzalf wordt dun aangebracht op de wondranden, want re-epithelisatie ontwikkelt zich vanaf de wondranden richting wondcentrum.3
Lees het gehele artikel vanaf pagina 32 in OrthoFyto 6/22.
Bronvermelding:
1. Vitale S, Colanero S, Placidi M, Di Emidio G, Tatone C, Amicarelli F, D'Alessandro AM. . Molecules 2022, 27(11), 3566.
2. . (februari 2020). Geraadpleegd op 9 september 2022 via www.woundsource.com/chronic-acute-strategies-preventing-wound-chronicity
3. Siegfired Bӓumler. Heilpflanzen Praxis Heute, band 2, Rezepturen und Anwendung. Elsevier Urban & Fischer, 2012. ISBN 9783437572739
4. Pereira R, Mendes A, Bártolo P. . *The First CIRP Conference on Biomanufacturing Selection and/or peer-review under responsibility of Professor Mamoru Mitsuishi and Professor Paulo Bartolo doi: 10.1016/j.procir.2013.01.042
5. Bialik-Wąs, K.; Raftopoulos, K.N.; Pielichowski, K. . Materials 2022, 15, 748.
6. Wang, X.; Shen, K.; Wang, J.; Liu, K.; Wu, G.; Li, Y.; Luo, L.; Zheng, Z.; Hu, D. . Free Radic. Biol. Med. 2020, 159, 164–176
7. Schoonheydt, Umemura Y. . First Online: 19 April 2017 Part of the Nanostructure Science and Technology book series (NST), Chapter First Online: 19 April 2017.
8. Nevin KG, Rajamohan T. . Skin Pharmacol Physiol . 2010;23(6):290-7.
9. Tubair, M.; Widén, C.; Renvert, S.; Rumpunen, K. . J. Tradit. Complement. Med. 2019, 9, 169–171.
10. Ghanadian, M.; Soltani, R.; Homayouni, A.; Khorvash, F.; Jouabadi, S.M.; Abdollahzadeh, M. . Int. J. Low Extrem. Wounds 2022.
11. Siegfired Bӓumler. Heilpflanzen Praxis Heute, band 2, Rezepturen und Anwendung. Elsevier Urban & Fischer, 2012. ISBN 9783437572739
12. Zangeneh, A.; Pooyanmehr, M.; Zangeneh, M.M.; Moradi, R.; Rasad, R.; Kazemi, N. . Comp. Clin. Pathol. 2019, 28, 1507–1514.
13. Hanafi, N.; Amiri, F.T.; Shahani, S.; Enayatifard, R.; Ghasemi, M.; Karimpour, A.A. . Marmara Pharm. J. 2022, 22, 411–421.
14. Nicolaus, C.; Junghanns, S.; Hartmann, A.; Murillo, R.; Ganzera, M.; Merfort, I. . J. Ethnopharmacol. 2017, 196, 94–103.
15. Kharat, Z.; Amiri Goushki, M.; Sarvian, N.; Asad, S.; Dehghan, M.M.; Kabiri, M. . Int. J. Pharm. 2021, 609, 121132.
16. Labib, R.M.; Ayoub, I.M.; Michel, H.E.; Mehanny, M.; Kamil, V.; Hany, M.; Magdy, M.; Moataz, A.; Maged, B.; Mohamed, A. . PLoS ONE 2019, 14, e0219561.
17. Labib, R.M.; Ayoub, I.M.; Michel, H.E.; Mehanny, M.; Kamil, V.; Hany, M.; Magdy, M.; Moataz, A.; Maged, B.; Mohamed, A. . PLoS ONE 2019, 14, e0219561.
18. Geert Verhelst. Groot Handboek geneeskrachtige planten. Dr. Geert Verhelst, 9e druk, 2019.
19. Demling RH. . ePlasty. 2009;9:65-94.
20. Schilp J,Hinke M, Kruizenga RD, Wijnhoven HAH, Leistra E, Evers AM, van Binsbergen J, Deeg DJH, Visser M. . Nutrition 2012;28:1151-6.
21. Jonkers A. . (augustus 2017) Geraadpleegd op 9 september via https://www.aliettejonkers.nl/2017/08/01/goede-voeding-bij-wondzorg-broodnodig/
22. Mathus-Vliegen EMH. . J Gerontol A: Biol Sci Med Sci. 2004;59(4):M355–60.
23. Ucciolo L, Izzo V, Meloni M, et al. . J Wound Care. 2015;24(4), 35–42.