De rol van adaptogenen bij een burn-out
13 Feb, 2020
Door: Geert Vergote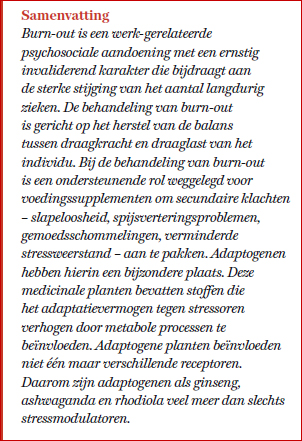 Burn-out staat al jaren in de top-drie van volksziekten. Alle aandacht ten spijt bestaat er voor dit syndroom nog steeds geen officieel erkend diagnose-criterium. Over burn-out circuleren daarom nogal wat halve waarheden en kwetsende mythes. Dat neemt niet weg dat er remedies tegen burn-out zijn. Ook in de sfeer van medicinale planten, al blijft over het werkingsmechanisme nog veel onduidelijk.
Gezondheidscijfers liegen niet. Volgens deze data is burn-out een psychosociale aandoening met een ernstig invaliderend karakter die bijdraagt aan de sterke stijging van het aantal langdurig zieken. Gezondheidsprofessionals en werkgevers moeten beseffen dat burn-out werk-gerelateerd is. Daarom zijn een tijdige opsporing van alarmsignalen, een correcte diagnose, preventieve maatregelen en een intensieve monitoring van de patiënt absoluut noodzakelijk om deze aandoening te voorkomen en te behandelen.1
De behandeling van burn-out is gericht op het herstel van de balans tussen draagkracht en draaglast bij het individu. Het stimuleren van de patiënt tot een actieve probleemoplossende houding is noodzakelijk. Voedingssupplementen vervullen een ondersteunende bijrol. Ze kunnen overwogen worden om secundaire klachten van burn-out zoals slaapproblemen of gemoedsschommelingen te milderen. Maar net zoals geneesmiddelen zijn voedingssupplementen nooit de oplossing voor het burn-outsyndroom.
De oorzaak van een burn-out is complex en vooral het resultaat van een samenspel tussen werksituatie, privésfeer en persoonlijke kwetsbaarheden. Werk-gerelateerde, individuele en sociale factoren hebben een invloed op het ontstaan van de aandoening. Verschillende auteurs zijn van mening dat een prestatiegericht maatschappijmodel een zeer belangrijke bron is van burn-out. Volgens de meeste onderzoeken speelt de werksituatie zelfs een grotere rol bij de ontwikkeling van burn-out dan de individuele kenmerken, met name kwetsbaarheden.2
Lees het gehele artikel vanaf pagina 14 in OrthoFyto 1/20
Wilt u het gehele artikel als PDF bestand ontvangen? Bestel het dan hier voor € 3,50
Bronvermelding:
Advies van de Hoge Gezondheidsraad Federale Overheidsdienst Volksgezondheid, Veiligheid van de Voedselketen en Leefmilieu (2017) nr 9339. Burn-out en werk. Brussel. Geraadpleegd 6 december
Desart, S., Schaufeli, W.B., & De Witte, H. (2017) Op zoek naar een nieuwe definitie van burn-out. 2017. www.kuleuvenblogt.be
Hulme K, Safari R, Thomas S, Mercer T, White C, Van der Linden M, Moss-Morris R. (2018) Fatigue interventions in long term, physical health conditions: A scoping review of systematic reviews. PLoS One. 2018 Oct 12;13(10):e0203367.
Nederlands Huisarts Genootschap (2019) NHG-Standaard Overspanning en burn-out. Geraadpleegd op 6 december 2019
Panossian A. (2017) Understanding adaptogenic activity: specificity of the pharmacological action of adaptogens and other phytochemicals. Ann N Y Acad Sci. 2017 Aug;1401(1):49-64.
Shafiee M, Arekhi S, Omranzadeh A, Sahebkar A. (2018) Saffron in the treatment of depression, anxiety and other mental disorders: Current evidence and potential mechanisms of action. J Affect Disord. 2018 Feb;227:330-337.
Tóth B, Hegyi P, Lantos T, Szakács Z, Kerémi B, Varga G, Tenk J, Pétervári E, Balaskó M, Rumbus Z, Rakonczay Z, Bálint ER, Kiss T, Csupor D. (2019)

The Efficacy of Saffron in the Treatment of Mild to Moderate Depression: A Meta-analysis

. Planta Med. 2019 Jan;85(1):24-31.
Ravindran AV, Balneaves LG, Faulkner G, Ortiz A, McIntosh D, Morehouse RL, Ravindran L, Yatham LN, Kennedy SH, Lam RW, MacQueen GM, Milev RV, Parikh SV. Canadian Network for Mood and Anxiety Treatments (CANMAT) 2016 Clinical Guidelines for the Management of Adults with Major Depressive Disorder: Section 5. Complementary and Alternative Medicine Treatments. Can J Psychiatry. 2016 Sep;61(9):576-87.
Ng QX, Venkatanarayanan N, Ho CY.

Clinical use of Hypericum perforatum (St John's wort) in depression: A meta-analysis

. J Affect Disord. 2017 Mar 1;210:211-221.
European Medicines Agency (2018 )

European Union herbal monograph on Hypericum perforatum L., herba (traditional use)

. EMA/HMPC/45508/2017. Geraadpleegd op 6 december
Bent S, Padula A, Moore D, Patterson M, Mehling W. Valerian for sleep: a systematic review and meta-analysis. Am J Med. 2006 Dec;119(12):1005-12.
European Medicines Agency (2016) European Union herbal monograph on Valeriana officinalis L., radix. EMA/HMPC/150848/2015. Geraadpleegd op 6 december 2019
European Medicines Agency (2014) Community herbal monograph on Passiflora incarnata L., herba. EMA/HMPC/669740/2013. Geraadpleegd op 6 december 2019
Ngan A, Conduit R.

A double-blind, placebo-controlled investigation of the effects of Passiflora incarnata (passionflower) herbal tea on subjective sleep quality

. Phytother Res. 2011 Aug;25(8):1153-9.
European Medicines Agency (2012)

Community herbal monograph on Rhodiola rosea L., rhizoma et radix

. EMA/HMPC/232091/2011. Geraadpleegd op 6 december
Cropley M, Banks AP, Boyle J. The Effects of Rhodiola rosea L. Extract on Anxiety, Stress, Cognition and Other Mood Symptoms. Phytother Res. 2015 Dec;29(12):1934-9.
Hung SK, Perry R, Ernst E.

The effectiveness and efficacy of Rhodiola rosea L.: a systematic review of randomized clinical trials

. Phytomedicine. 2011 Feb 15;18(4):235-44.
Ishaque S, Shamseer L, Bukutu C, Vohra S. Rhodiola rosea for physical and mental fatigue: a systematic review. BMC Complement Altern Med. 2012 May 29;12:70.
Punja S, Shamseer L, Olson K, Vohra S.

Rhodiola rosea for mental and physical fatigue in nursing students: a randomized controlled trial

. PLoS One. 2014 Sep 30;9(9):e108416.
Arring NM, Millstine D, Marks LA, Nail LM. Ginseng as a Treatment for Fatigue: A Systematic Review. J Altern Complement Med. 2018 Jul;24(7):624-633.
European Medicines Agency (2014) Community herbal monograph on Panax ginseng C.A.Meyer, radix. EMA/HMPC/321233/2012. Geraadpleegd op 6 december 2019
Kim HG, Cho JH, Yoo SR, Lee JS, Han JM, Lee NH, Ahn YC, Son CG. Antifatigue effects of Panax ginseng C.A. Meyer: a randomised, double-blind, placebo-controlled trial. PLoS One. 2013 Apr 17;8(4):e61271.
Auddy B, Hazra J, Mitra A, Abedon B, Chosal S. (2008) A standardized Withania somnifera extract significantly reduces stress-related parameters in chronically stressed humans: a double-blind, randomized, placebo-controlled study. JANA 2008; 11(1): 50-6.
Chandrasekhar K, Kapoor J, Anishetty S. (2012) A prospective, randomized double-blind, placebo-controlled study of safety and efficacy of a high-concentration full-spectrum extract of Ashwagandha root in reducing stress and anxiety in adults. Indian journal of psychological medicine 2012, 34(3), 255.
Choudhary D, Bhattacharyya S, Joshi K.(2017) Body Weight Management in Adults Under Chronic Stress Through Treatment With Ashwagandha Root Extract: A Double-Blind, Randomized, Placebo-Controlled Trial Journal of evidence-based complementary & alternative medicine 2017, 22(1), 96-106.
Sarris J.(2018) Herbal medicines in the treatment of psychiatric disorders: 10-year updated review. Phytother Res. 2018 Jul;32(7):1147-1162.