Westerse fytotherapie bij prikkelbare darmen
30 Nov, 2022
Door Cindy de Waard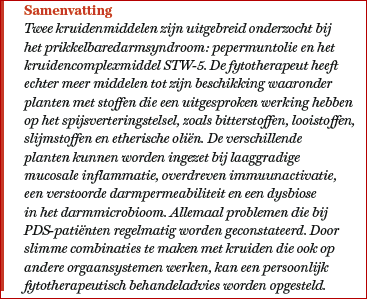 Voor de fytotherapeutische behandeling van het prikkelbaredarmsyndroom zijn twee, uitgebreid onderzochte, kruidenmiddelen veel gebruikt: pepermuntolie en het kruidencomplexmiddel STW-5 (Iberogast).1 Maar we kunnen bij darmklachten over veel meer planten(stoffen) beschikken. In een holistische benadering zullen bovendien ook andere organen worden meegenomen, zoals maag, lever en pancreas. Dat resulteert in de inzet van specifieke plantenstoffen, waaronder slijm-, looi- en bitterstoffen.
De darmen worden slechts gedeeltelijk vanuit het centrale zenuwstelsel aangestuurd en functioneren tamelijk autonoom. De meeste 'beslissingen' worden lokaal genomen. Bij het ondersteunen van de darmfunctie volstaan dan in de regel ook kruiden die lokaal werken, al kunnen ze uiteindelijk ook systemische effecten hebben.2 Lokaal kan er echter nogal wat mis gaan. Het prikkelbaredarmsyndroom is in verband gebracht met laaggradige mucosale inflammatie, overdreven immuunactivatie, een verstoorde darmpermeabiliteit, verstoringen in de galzuur - en serotoninestofwisseling en een dysbiose in het darmmicrobioom.3 Daarnaast is het vanuit een natuurgeneeskundige visie goed voorstelbaar dat verteringsproblemen in de darmen een belasting geven op overige organen in het spijsverteringsstelsel. Uiteindelijk kunnen de darmproblemen leiden tot problemen elders in het lichaam. Zo hebben mensen met PDS vaker depressieve en angstklachten.4 Hoe PDS-klachten zich uiten is echter zeer persoonlijk. Dit betekent dat ook de behandeling heel persoonlijk kan worden opgesteld. Niet alleen op basis van de darmklachten; verstoringen in het gehele systeem kunnen worden meegenomen.
Medicinale plantenstoffen die voornamelijk op het spijsverteringskanaal werken zijn slijmstoffen, looistoffen (tanninen), bitterstoffen, prikkelende stoffen zoals scherpe kruiden, anthraquinonglycosiden, harsen en essentiële oliën. Daarnaast bestaan er natuurlijk ook nog de fermenteerbare plantenvezels: prebiotica. Slijmstoffen leggen een beschermend laagje over de slijmvliezen en behoeden zo het weefsel tegen kwalijke invloeden van buitenaf. Ze zijn bijvoorbeeld geschikt bij dyspeptische klachten die samengaan met brandend maagzuur of bij inflammatoire darmaandoeningen en een lekkende darm.
Lees het gehele artikel vanaf pagina 16 in OrthoFyto 6/22
Bronvermelding:
1. Hawrelak JA, Wohlmuth H, Pattinson M, Myers SP, Goldenberg JZ, Harnett J, et al. . Vol. 48, Complementary Therapies in Medicine. Churchill Livingstone; 2020. p. 102233.
2. Bone K, Mills S. Principles and practice of phytotherapy: Modern herbal medicine. Principles and Practice of Phytotherapy: Second Edition. Elsevier Ltd; 2012. 1–1051 p.
3. Holtmann G, Shah A, Morrison M. . Vol. 35, Digestive Diseases. Karger Publishers; 2018. p. 5–13.
4. Hu Z, Li M, Yao L, Wang Y, Wang E, Yuan J, et al. . BMC Gastroenterol. 2021 Dec 1;21(1):1–18.
5. Weiss RF. Weiss's herbal medicine. 2001;362.
6. McMullen M. . Int J Complement Altern Med. 2017;6(5).
7. Kelber O, Bauer R, Kubelka W. . Vol. 35, Digestive Diseases. Karger Publishers; 2018. p. 36–42.
8. Rahimi R, Abdollahi M. . Vol. 18, World Journal of Gastroenterology. 2012. p. 589–600.
9. Hanning N, Edwinson AL, Ceuleers H, Peters SA, De Man JG, Hassett LC, et al. . Vol. 14, Therapeutic Advances in Gastroenterology. SAGE Publications Ltd; 2021.
10. Watson JL, Ansari S, Cameron H, Wang A, Akhtar M, McKay DM. . Am J Physiol - Gastrointest Liver Physiol. 2004 Nov;287(5 50-5):G954–61.
11. Song J, Lei X, Luo J, Everaert N, Zhao G, Wen J, et al. . J Anim Physiol Anim Nutr (Berl). 2019 Jan 31;
12. Ishida T, Miki I, Tanahashi T, Yagi S, Kondo Y, Inoue J, et al. . Eur J Pharmacol. 2013 Aug 15;714(1–3):125–31.
13. Marisa R, Assessor D, Calapai G, Delbò M. ., radix.
14. Nikkhah Bodagh M, Maleki I, Hekmatdoost A. . Vol. 7, Food Science and Nutrition. John Wiley & Sons, Ltd; 2019. p. 96–108.
15. Wang J, Wang P, Li D, Hu X, Chen F. . Eur J Nutr 2019 592. 2019 Mar 11;59(2):699–718.
16. Hawrelak JA. . In: SW Conference. 2022.