Bijwerkingen van supplementen met fyto-oestrogenen
12 Oct, 2020
Door: Vera van Randwijck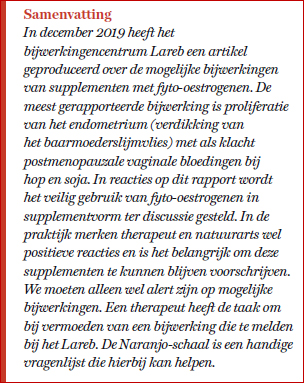 Er is al langere tijd discussie over nut en veiligheid van supplementen met fyto-oestrogenen. Driekwart jaar geleden leidde een artikel van bijwerkingencentrum Lareb tot nieuwe reacties. De algemene teneur: het nut van fyto-oestrogenen is onbewezen en ze kunnen ernstige bijwerkingen hebben. Hoe kwam het Lareb tot haar conclusies; is de bezorgdheid terecht en wat kan de therapeut of onderzoekende patiënt met deze kennis doen?
In december 2019 heeft het bijwerkingencentrum Lareb een artikel geproduceerd over de mogelijke bijwerkingen van supplementen met fyto-oestrogenen.1 De conclusie is dat meer bekend moet worden over de mogelijke ongewenste bijwerkingen van fyto-oestrogenen zodat vrouwen (en therapeuten) beter kunnen bepalen of ze dit soort supplementen willen slikken of voorschrijven. Dit gegeven is gemeld bij de NVWA (Nederlandse Voedsel- en Warenautoriteit). Vervolgens kwam het aan de orde in een televisie-uitzending van Radar en naar aanleiding daarvan zijn er Kamervragen2 gesteld over de veiligheid van borst vergrotende kruiden.3,4 Zijn supplementen met kruiden als soja en hop, met een verhoogd gehalte aan werkzame fyto-oestrogenen, wel veilig om vrijelijk te gebruiken?
Het Lareb verzamelt informatie over en is het meldpunt voor bijwerkingen van medicijnen, het beloop, de risicofactoren, behandeling en de belasting van bijwerkingen. Naast bijwerkingen van medicijnen ontvangt het ook meldingen over bijwerkingen van supplementen. Lareb meldt dat er 51 meldingen over bijwerkingen van fyto-oestrogenen zijn binnengekomen tussen 1999 en 2019.1 Dat is op zich niet veel, maar we weten dat het 't heel kleine topje van een vrij grote ijsberg is; het merendeel van de bijwerkingen wordt niet gemeld.
Lees het gehele artikel vanaf pagina 28 in OrthoFyto 5/20.
Wilt u het gehele artikel als PDF bestand ontvangen? Bestel het dan hier voor € 3.50
Bronvermelding:
Bijwerkingencentrum Lareb, Herbal preparations with phytoestrogens - overview of the adverse drug reactions. 2019. Geraadpleegd op 4 juni 2020 via www.lareb.nl
Rijksoverheid. Beantwoording-kamervragen-over-borstvergrotingen-pillen 2019 Geraadpleegd 4 juni 2020 via www.rijksoverheid.nl
Website Menocool:

www.menocool.nl

Website Breastgro:

www.breastgro.nl

van Hunsel F, Kampschöer,P. Postmenopauzaal bloedverlies en voedingssupplementen Nederlands Tijdschrift voor Geneeskunde. 2012.
van Hunsel F, van de Koppel S, van Puijenbroek E. Post-Menopausal Vaginal Hemorrhage Related to the Use of a Hop-Containing Phytotherapeutic Product. Drug Safety - Case Reports, 2015 2(1).
Voedingscentrum Zijn voedingssupplementen met isoflavonen of fyto-oestrogenen slecht voor je gezondheid Geraadpleegd op 4 juni 2020 via www.voedingscentrum.nl
Nederlands Huisartsgenootschap NHG standaard de overgang Geraadpleegd op 4 juni 2020 via www.nhg.org versie 2.0 april 2012
NVWA De eerste Staat van voedselveiligheid. Geraadpleegd op 4 juni 2020 via www.rijksoverheid.nl 2018
European Safety Authority. Endocrine active substances EFSA to deliver scientific opinion in March. Geraadpleegd 25 mei 2020, via www.efsa.europa.eu/en/press/news/121001
Milligan S, Kalita J, Pocock V, Van De Kauter J, Rong D. The Endocrine Activities of 8-Prenylnaringenin and Related Hop (Humulus lupulus L.) Flavonoids. J Clin Endocrinol Metab. 2000 Dec;85(12):4912-5
Milligan S, Kalita J, Pocock V, Heyerick A, De Cooman L, Rong H, De Keukeleire D. Oestrogenic activity of the hop phyto-oestrogen, 8-prenylnaringenin. Reproduction, 2002 123(2), 235–242.
Rad M, Humpel M, Schaefer O, Schoemaker R, Schleuning W, Cohen A, Burggraaf J. Pharmacokinetics and systemic endocrine effects of the phyto-oestrogen 8-prenylnaringenin after single oral doses to postmenopausal women. British Journal of Clinical Pharmacology. 2006 62(3), 288–296.
Dueholm M, Hjorth D, Secher P, Jørgensen A, Ørtoft G. Reproducibility of Endometrial Pathologic Findings Obtained on Hysteroscopy, Transvaginal Sonography, and Gel Infusion Sonography in Women With Postmenopausal Bleeding. Journal of Minimally Invasive Gynecology 2015 22(6), 1036–1044.
Walji R, Boon H, Barnes J, Austin Z, Welsh S, Ross Baker G.

Consumers of natural health products: natural-born pharmacovigilantes

? BMC Complement Altern Med. 2010; 10: 8.
Unfer V, Casini M, Costabile L, Mignosa M, Gerli S, Di Renzo C.

Endometrial effects of long-term treatment with phytoestrogens: A randomized, double-blind, placebo-controlled study

. Fertility and Sterility 2004 82(1), 145–148.
Tempfer C, Froese G, Heinze G, Bentz E, Hefler A, Huber C.

Side Effects of Phytoestrogens: A Meta-analysis of Randomized Trials

. American Journal of Medicine 2009 122(10).
Chandrareddy A, Muneyyirci-Delale O, McFarlane S, Murad M. Adverse effects of phytoestrogens on reproductive health: A report of three cases. Complementary Therapies in Clinical Practice. 2008 14(2), 132–135.
Rietjens I, Louisse J, Beekmann K.

The potential health effects of dietary phytoestrogens

. British Journal of Pharmacology. John Wiley and Sons Inc. 2017
Chi F, Wu R, Zeng Y, Xing R, Liu Y, Xu Z. Post-diagnosis Soy Food Intake and Breast Cancer Survival: A Meta-analysis of Cohort Studies. Asian Pacific Journal of Cancer Prevention. 2013 14(4), 2407–2412.
Wada K, Nakamura K, Tamai Y, Tsuji M, Kawachi T, Hori A,Nagata C.

Soy isoflavone intake and breast cancer risk in Japan: From the Takayama study

. International Journal of Cancer. 2013 133(4), 952–960.
Maskarinec G, Ju D, Morimoto Y, Franke A, Stanczyk Z.

Soy Food Intake and Biomarkers of Breast Cancer Risk: Possible Difference in Asian Women

? Nutrition and Cancer. 2017 69(1), 146–153.
Zhu Y, Zhou L, Xu L. Relationship Between Soy Food Intake and Breast Cancer in China. Asian Pac J Cancer Prev. 2011;12(11):2837-40.
Youtube lezing van dr Messina in 2016:

www.youtube.com

Chen M, Lin C, Liu C. Efficacy of phytoestrogens for menopausal symptoms: A meta-analysis and systematic review. Climacteric. 2015 Vol. 18, pp. 260–269.
van Randwijk V. Fyto-oestrogenen en borstkanker OrthoFyto 2019 (4)
Messina M. Soy foods, isoflavones, and the health of postmenopausal women. American Journal of Clinical Nutrition. 2014 100(SUPPL. 1).
Usui T.

Pharmaceutical prospects of phytoestrogens

. Endocrine Journal. 2006 Vol. 53, pp. 7–20.
Ewies A. Phytoestrogens in the management of the menopause: Up-to-date. Obstetrical and Gynecological Survey. 2002 Vol. 57, pp. 306–313.
Rossouw J, Anderson L, Prentice L, LaCroix Z, Kooperberg C, Stefanick M. Risks and benefits of estrogen plus progestin in healthy postmenopausal women: Principal results from the women's health initiative randomized controlled trial. Journal of the American Medical Association. 2002, 288(3), 321–333.
Poluzzi E. et al. Phytoestrogens in Postmenopause: The State of the Art from a Chemical, Pharmacological and Regulatory Perspective. Current Medicinal Chemistry 2013 21(4), 417–436.
Whitekus, M Adverse Drug Reactions - Expert Article 2014 Geraadpleegd op 8 augustus via www.robsonforensic.com/articles/adverse-drug-reactions-expert-article